Mondicon achieves ISO 9001 certificate
AALSMEER, 10th of August 2018Mobile data specialist Mondicon has achieved the prestigious ISO 9001 certificate. During the recent audit, Mondicon proved that its quality management is of a high level. Work processes are recorded in a professional way and are also respected in that way by the employees of Mondicon. The certificate is not only for Mondicon, but also valid for CheerIoT and We.Stream. Both are recent founded entities of Mondicon.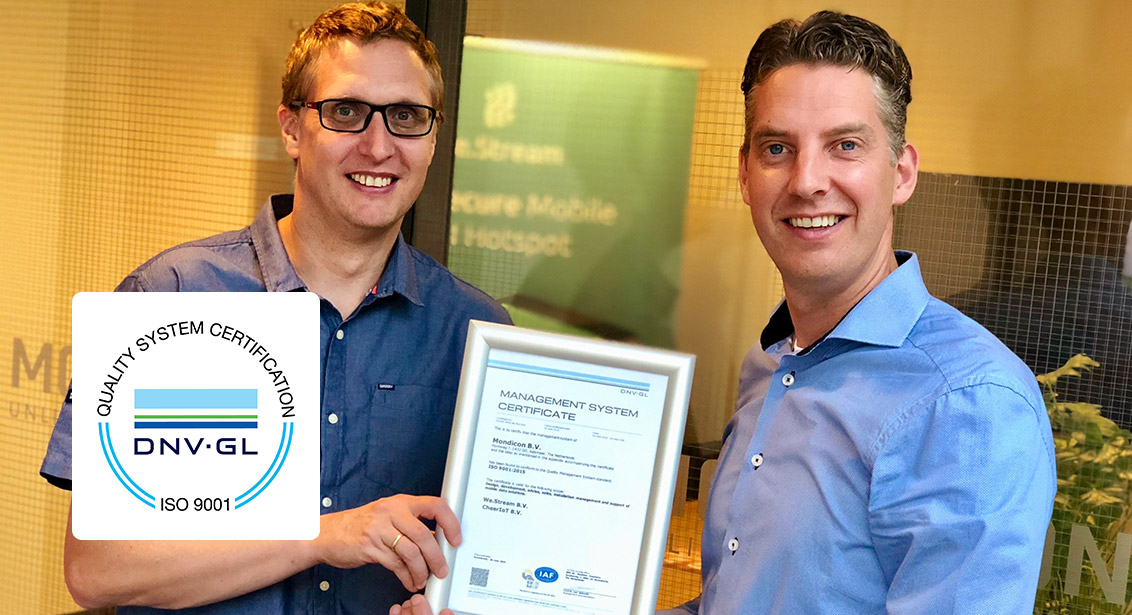 Mondicon provides customized international mobile data solutions. With this service, Mondicon supports amongsy others the maritime and broadcasting sector with connectivity solutions. In 2017, CheerIoT was launched. CheerIoT supplies connectivity for IoT project through on online webshop. All CheerIoT bundles and solutions can be used on various networks in more than 70 countries worldwide.

At the beginning of this year, during the CES in Las Vegas, Mondicon introduced We.Stream. We.Stream is a secure mobile WiFi hotspot that provides travelers affordable and secure internet in more than 100 countries. We.Stream recently announced several agreements with international partners, for the worldwide offering of the WiFi hotspot.


Joachim de Wild, CTO of Mondicon: "I am very proud on our team. Especially the fact that we achieved the certificate for all three entities in such a short term, is definately a great achievement. During the project, which was led by Jeroen Molenaar from MnP Solutions, we were able to implement some improvements directly due the promt feedback from Jeroen. These improvements have a significant positive effect on our organization. We have grown really fast in the last couple of years and started some major new initiatives. That's why it is a compliment for our team that we have developed ourselves in such a professional way, during these dynamic years. It proves that our organization is stable and that is important for the realization of our goals in the next years."

Jeroen Molenaar, partner of MnP Solutions: "In the short period that I know Mondicon and its organization, I am impressed by the flexibility and level of professionalism that the complete organization shows. Therefore I am convinced that Mondicon, together with its other two entities, is ready for a successfull future."
Would you like to know more about our Internet solutions?
Feel free to contact us via
info@mondicon.com
or +31 (0)88-0048800